Comprehensive, integrated and optimized.

Everuz Cloud Path™ is a highly optimized implementation methodology with well-defined functional steps to accelerate broad range of cloud migration scenarios.


Incorporating industry best practices and guidance learned through our customer engagements, it supports the orchestration of your cloud solution via planning, blueprinting, execution and support.


Everuz Cloud Path™ is a lightweight, intuitive and prescriptive framework that accelerates your time-to-value from cloud by leveraging proven solution blueprints, tools, and public, private or hybrid cloud options.



Aligning your cloud strategy with your business strategy, Everuz Cloud Path™ helps apply a realistic framework and create a comprehensive implementation roadmap optimizing your cloud transition while managing costs, complexities and risks.


You consistently achieve reduction in provisioning and implementation times, and costs. Having worked with numerous cloud transformation engagements in different industries, our consultants know what to expect. Importantly, we foresee and plan for risks with diligent project management.


Everuz Cloud Path™ has eight progressive functional steps—Analyze, Plan, Design, Build, Migrate, Test, Go Live, and Manage—to guide you through your cloud adoption.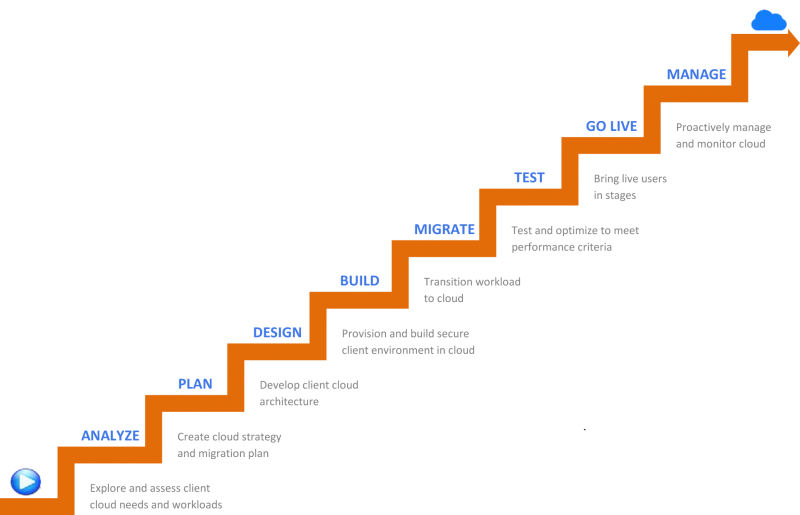 Analyze
Use an agile approach to identify potential cloud opportunities and develop a cloud migration strategy that works for you. Exploring how you operate and organize your businesses, assess business and IT drivers and determine your readiness for cloud adoption, identify business and IT assets that are most suited for cloud migration, identify relevant cloud services and the capacity requirements, and help validate and prepare applications for cloud migration.
Plan
Refine the cloud migration strategy and develop a practical implementation plan defining cloud governance strategies, establish a detailed inventory of IT components, conduct a cloud suitability assessment for the candidate workloads, establish availability, support and monitoring requirements, assess the financial viability of the cloud migration, and create a comprehensive cloud migration plan, along with a preliminary cloud reference architecture.


Following guidelines helps you establish the level of availability, support and monitoring required for your workloads in the cloud:

Design
Drawing from a comprehensive library of solution blueprints, develop a detailed cloud architecture that is best suited to meet your workloads, service level expectations and strategic vision.
Build
Set up secure and compliant cloud environment based on your unique workloads including identity and access management, connectivity and virtual network, and provisioning of virtual machines and storage as well as extending IT service management processes to the cloud.
Migrate
Transition your mission-critical workloads to the cloud environment based on the chosen migration strategy. Options include re-hosting the workload to the cloud as is, re-engineering the application for cloud or integrating the existing application with a cloud-based system via service wrappers.
Test
Conduct comprehensive post-migration validation and performance testing of the cloud environment expanding, optimizing and adjusting until your workload, performance and security requirements are met.
Go Live
Build your production environment based on the tested cloud environment and configure it based on production workload requirements including identity and access management, connectivity and virtual network, and provisioning of virtual machines and storage as well as extending IT service management processes, and bring on live users in stages ensuring your workload, performance and security requirements are tightly met.
Manage
Continue to support and manage the production environment for optimal service levels and performance with diligent service delivery (provisioning, self-service, service level management, regulatory compliance, availability, auto-scaling and high-availability considerations, plus bursting, backup, failover, disaster recovery and security) and service operations (monitoring, orchestration and automation, auditing, access management, incident management, metering/chargeback and cost optimization).
Blueprints
Drawing from extensive implementation experience and industry best practices, Everuz has developed a comprehensive library of cloud solution blueprints to accelerate your cloud adoption, including:
| | |
| --- | --- |
| Cloud Migration Blueprints | These blueprints help you seamlessly migrate on-premises IT resources to the cloud. |
| Application-specific Blueprints | These blueprints allow your to deploy a particular enterprise application (e.g. SAP, Oracle Applications) landscapes to the cloud, with workload and performance requirements verified. |
| Application Transformation Blueprints | These tools and solutions help you build cloud-first applications, migrate applications to the cloud and SaaS-enabling applications. |
LET'S TALK
Cloud is here and the cloud pivot is real. Are you ready to leverage cloud for your business and beat out your competition? We can help! To learn more about how we can formulate a differentiated cloud strategy and successfully execute it following our practical Everuz Cloud Path™ methodology, please contact us today at [email protected]. We can get you started with a no obligation cloud needs analysis complete with a branded proof of concept implementation of your cloud strategy.