Finely-tuned managed services

.

Instantly gain scale with our reliable all-inclusive managed services for your mission-critical workloads.




Turning to our managed services with predictable cost structure and guaranteed service levels eases your financial and resource burdens.




As a result, you become more flexible, more dynamic and better able to change and take on new opportunities.




Benefits
Choose Everuz to provide higher quality managed services to your employees, customers and partners.
Ready-to-use, fully-managed services
Rapid time-to-value
Reduced TCO
Reduced implementation times and risks
Simplicity with single vendor
Improved reliability and performance
Guaranteed service levels
Flexible Offering
Any managed service is a trade-off between the obvious benefits and the control. Therefore, we offer you a wide range of managed services from the bare-bones Managed Infrastructure to the complete Managed Applications.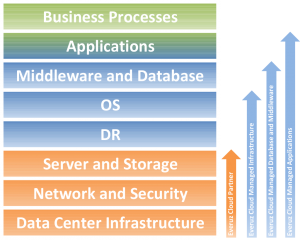 Single Vendor
Your managed services can be delivered on public, private or hybrid cloud infrastructures. As your trusted cloud partner, we manage the relationship with the cloud infrastructure partners and offer you:
Single vendor billing and governance
Managed scaling, security and disaster recovery
Resource usage optimization
24×7 issue monitoring, reporting, response and resolution
What We Offer

As part of the Everuz Managed Services offering, we are responsible for the end-to-end delivery of high quality managed services you demand, including the data center infrastructure services offered by our IaaS partners.




Depending on the level of managed services you require, our responsibilities include:
Data center infrastructure management
Security management
Network management
Server management
Storage management
Disaster recovery management
Provisioning and scaling management
Operating system management
Upgrades and patches
User management
Performance management
Backup and recovery management
Change management and implementation
Monitoring and reporting
Incident management
SLA review and reporting
LET'S TALK
Do you want to grow your business without the growing pains? We can help! To find out how we can help you scale your operations with our managed services, please contact us today at [email protected]. We can get you started with a no obligation exploratory study complete with a branded proof of concept sandbox implementation of your workloads as managed services.




Find more about: