HANA migration made simple
.

SAP HANA is an in-memory platform that runs analytics applications smarter, business processes faster, and data infrastructures simpler. HANA is here. Let us help you leverage it.




Deployable as an on-premise appliance or in the cloud, it simplifies your SAP landscapes by eliminating the burden of maintaining separate legacy systems and siloed data.
Extend your cloud and on-premises SAP applications to develop customized solutions, while accelerating time-to-value by building on your existing investments. HANA is an investment in your future.




Integrate applications seamlessly and securely to synchronize data and processes across cloud, on-premises, and third-party systems.




Build new enterprise-ready applications rapidly with an open-standards platform that enables developers to use their existing skills.





HANA Benefits
Many measurable benefits have been spurring adoption of SAP HANA among forward-thinking growth enterprises, including:
Improved speed
Better performance
Greater agility to quickly to turn ideas into action and drive innovation
Ability to easily manage complex landscapes
Support for versatile application architectures and customer use cases
What We Offer
We can help you assess, plan and cost-effectively transition your SAP landscapes to SAP HANA running on-premises, in the cloud or fully managed in the cloud.




We understand the cost drivers and the risks of a HANA migration – and we can help you accelerate HANA adoption while lowering costs and risks.




We conduct precise cost-benefit analyses and draft your differentiated HANA roadmap to enable smart decision-making.





Migration Options
Your SAP HANA migration is impacted by, among other things, the complexity of the upgrade, the size of the database, and, of course, your business downtime window.




We can help you choose from the following recommended migration paths or a custom migration strategy tailored to your solution landscapes, considering your unique business requirements: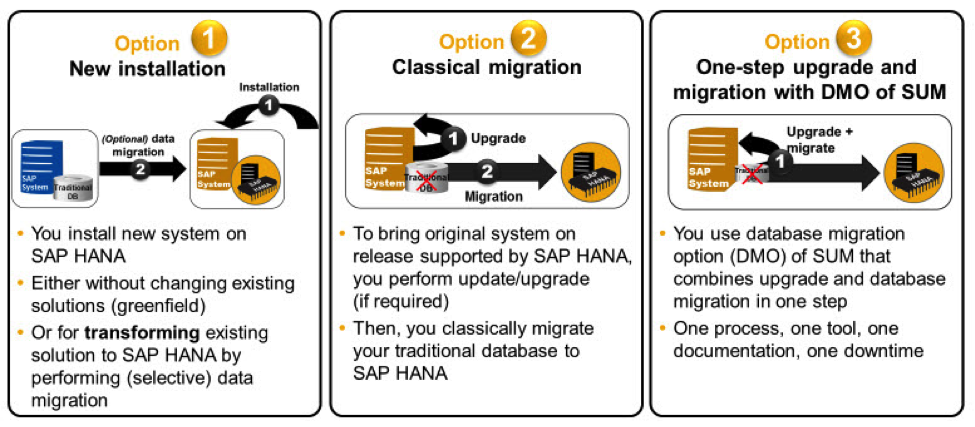 Migration Scenarios
We support the following HANA migration scenarios:




S/4HANA Migration
SAP Business Suite 4 HANA (SAP S/4HANA) provides a robust platform suited to the complex demands of your high velocity enterprise. Its current and future innovations require the power SAP HANA in-memory computing. To unlock the full business potential through SAP S/4HANA, companies are scrambling to develop an effective migration strategy that minimizes costs, risks and disruptions. Have you started thinking about S/4HANA and its enormous potential to drive efficiency, innovation and growth? Let us show you the way forward.
We can help you sort through the choices and develop a practical S/4HANA migration strategy along with the right deployment model so that you are not left behind. Our proven migration methodologies, tools and expertise enable us to help you on your journey to realize the power of S/4HANA.
Be on the leading edge of new technology and reap immediate business benefits. Let us show you how to become faster, smarter, more agile and connected with SAP S/4HANA.
LET'S TALK
Are you ready to transition your SAP workloads to the versatile SAP S/4HANA running on robust HANA platform? We can help you make that strategic leap! To learn more about HANA and how we can help you assess, plan and execute your HANA migration strategy, please contact us today at [email protected]. We can get you started with a no obligation needs analysis and a branded proof of concept implementation of your SAP workloads with a HANA instance.
< SAP Cloud Migration Services | SAP Cloud Managed Services >